I have been using my HTC ChaCha (also known in other countries as HTC Status) for more than two months now so it's time for a review.
If you guys remember my excitement-filled tweets and
post
about it, this is the phone I won from the Smart-HTC launch last July 6 held at Opus in Resorts World Manila :) Thanks again, Smart and HTC!
Basic features of the ChaCha include:
an 800 MHz processor
powered by Android Gingerbread OS
512 MB ROM and 512 MB RAM
114.4 mm (L) X 64.6 mm (W) x 10.7 mm (T)
Bluetooth, 3G, GPRS, and Wi-Fi connectivity
USB and Wi-Fi tethering
internal GPS antenna
3.5 mm stereo audio jack
5-megapixel colour camera with autofocus and LED flash and 2-megapixel front camera
a 2GB micro-SD card, but it can support up to 32GB external memory
The nifty box contains: the unit with battery, manuals, charger, and earphones.
Likes:
♥ It offers the best of both worlds.
Aside from the QWERTY keypad, it is also a touch-screen phone! Texting using the keypad is so much easier as compared to using my
Samsung Galaxy Ace Sheldon
.
♥ Its dedicated Facebook button lets me instantly share anything on my Facebook wall anytime, anywhere, as long as there's an available Wi-Fi or data plan connection! Aside from that, the f button lights up when you browse anything 'share-able', like your Gallery, tweets on Twitter app, or even links to web-pages you are currently browsing on your phone's browser!
♥ The curved design gives it a unique look and makes it very easy to hold.
♥ I love that it
comes in three colors
:
Modern White
,
Phantom Black
, and
Amethyst Purple
. I love that the phone I got is the Modern White model as it perfectly matches my netbook
Lady Fabrize
:)
♥ It
runs on Android
so I have access to thousands of free apps from the Android Market! I did not download games and eBooks on this phone anymore though because the bigger screen of my Galaxy Ace is more suitable for those. Here are the apps (downloaded and pre-installed) I currently have:
Facebook, Peep (Twitter), and Plurk are pre-installed.
You can see I downloaded just mainly camera apps.
And, I am now officially addicted to Foursquare :D
Also, it automatically syncs all my contacts from my phone book, emails accounts, and friends in Facebook and Twitter! It's so cool to see a friend's latest Facebook update or tweet before I answer his/ her call ;)
♥ The home screens, scenes, skins and widgets are
fully customizable
! You know I am such a sucker for personalizing my stuff, so this is a big plus.
This is what it looks like when the screen is locked.
You drag the "ring" upward to unlock. Or, you can also drag one of the widgets towards the "ring" to open it automatically, kinda like a shortcut.
And this is what my current home screen looks like when unlocked! :)
♥ It employs
HTC Sense
, literally making this smartphone, smart!
♥ I wasn't able to take a photo, but
it has a mini LED light
that blinks yellow whenever I have a notification (be it an email, Facebook notif, Twitter mention, or unread message) and red whenever I charge it, or when the battery's already running low. I don't have to unlock the screen every time just to check whether I have a message :)
♥ The screen
automatically goes on portrait-mode
to accommodate apps that need a bigger screen.
Example.
♥ Okay, this might not be a big deal to some, but I love that
it has a front-camera
! Very handy, especially during touch-ups, and also excellent for Twitpics of makeup looks ;)
:)
♥
Great battery power
! The battery lasts waaay longer than my Galaxy Ace, and I read somewhere that it's because of its smaller screen.
♥ It
automatically signs-on to Facebook Chat
whenever I connect via Wi-Fi or data plan. Random fun fact: I don't go online on Facebook Chat because I don't like my net-surfing interrupted by beeps from friends wanting to chat (which I am super lazy to do). I prefer talking over the phone, really. Or emails :)
♥ I don't like that
I cannot uninstall Plurk
because it is pre-installed. I had Plurk before but got bored with it when I reached Plurk Nirvana so I deleted my account. So now the widget for this app remains in my app drawer, unused and unwanted. Ulk funny how I get irked by a single app haha.
♥ I love that the phone is supposedly very exclusive as I haven't come across someone here in the office who has the same phone as I do, but I don't like that
I cannot find covers and screenguards for this model
. I've checked a number of shops selling accessories for gadgets, Capdase, and even HTC itself, to no avail. I wish they make some soon, as I know Zoey ChaCha would look even niftier with a funky cover on.
Oh yes, her name is Zooey ChaCha! :)
All in all the HTC ChaCha/ Status is a great, reliable and easy-to-use phone. I love it so much that I now use it as my main phone. Get yours now with the Smart Unlimited Plan! :) My
Samsung Galaxy Ace
now acts like an iTouch as I only use it now to listen to music, play games, and read eBooks. Actually I'm thinking of selling it soon. I still haven't completely decided yet though because my sister loves playing Angry Birds with it.
Oooh, by the way, Smart is holding ANOTHER Netphone party tomorrow!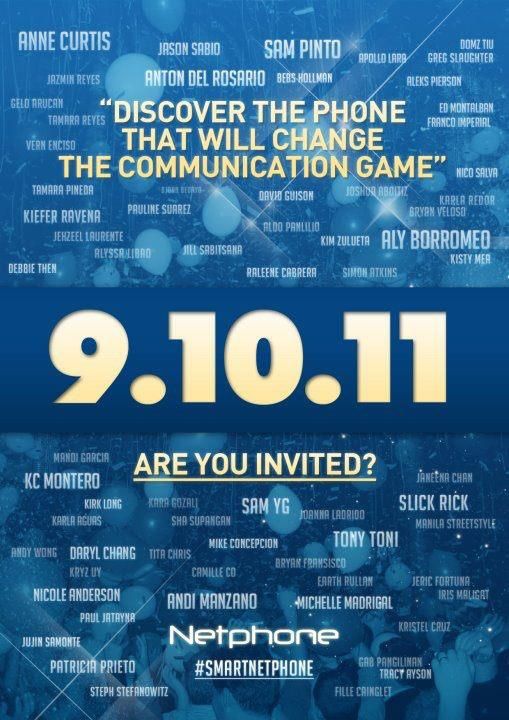 My name is there!!! Can you spot yours?
It feels so surreal to see my name up there with well-known celebrities and famous people from different fields :) Thank you Smart and Connect Agencie!