Feeling stressed lately because of work, family problems, or financial woes? Let zombies ease those worries away!
Wait. What?
Surely you've heard of the movie that has taken Manila by storm, Zombadings: Patayin sa Takot si Remington? No? Well it's time to crawl out from the rock you're under and visit the nearest movie house to see this excellently-done movie directed by Jade Castro, written with Raymond Lee and Michiko Yamamoto (the same team who brought Ang Pagdadalaga ni Maximo Oliveros to us), and starring Mart Escudero.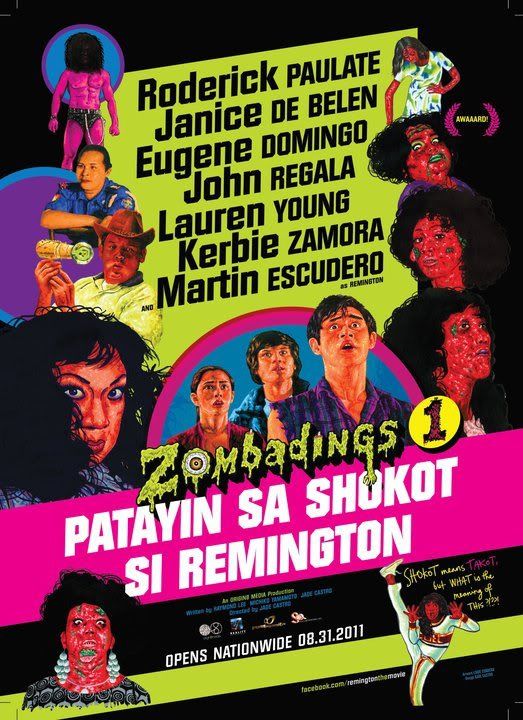 A couple of weeks ago I was given tickets to the premiere night by Miss Jenny but unfortunately it coincided with our
out-of-town team building last week
so I just gave my tickets to a friend. I guess I was always meant to see this movie though, because I was invited to yet another special screening, and this time it was on a date when I was available, in a cinema near my apartment! Double yay! Thank you very much, GeiserMaclang! So, after resting a bit last Wednesday from our trip, my friend/ officemate Mich and I headed to TriNoma for the movie :)
A lot of people attended and the cinema was packed but I didn't know anyone so I'm grateful I was able to bring a friend with me. Snacks were also provided, so after settling in our seats we prepared to laugh our hearts out.
And laugh our hearts out we did! The movie is a combination of comedy, drama, love story, horror, action and suspense all rolled into one! I admit I rarely watch local films but I really enjoyed
Zombadings
! There were LOTS of laugh-out-loud moments, and it just felt great to laugh along with the rest of the people in the packed movie-house :) I especially commend Eugene Domingo who might have had a few scenes only but was able to steal every moment with her knack for comedy. Mart Escudero also did a GREAT job at playing Remington, which I didn't really expect as it was very easy to overlook him as "just a newbie" in the local showbiz scene. And the gayspeak! Ohmygosh it was hard to keep up at first, but thanks to my "training" from my fabulous friends I was able to understand about 97% of it ;D
Watching
Zombadings
provided the much-needed uplift I longed for after seeing
One Day
(which I blogged about on my
previous post
). I won't post any spoilers here because I want you guys to experience it for yourself. :)
Let's show up at the movie-houses and support the brilliance of our indie film-makers whose aim is NOT for commercial gain but for critical acclaim! And please, say No to piracy!
Award!
Special thanks to GeiserMaclang for inviting me :)