I was invited to a posh event at Manila's swankiest hotel two Fridays ago but for some reason I wasn't really in the mood to socialize. My Friday night was spent in TriNoma for KTV, dinner and movie with dear friends instead.
Do you know what my forever go-to songs in videoke are? They'd be Corrine Bailey Rae's Put Your Records On, Keane's Somewhere Only We Know, and Rihanna's Don't Stop the Music haha. What're yours? Poly, Mich and I sang these and more, and when Ed arrived after work we went to Bigoli (which is now super famous, they've expanded their TriNoma branch already, wow!) for dinner. I'm just happy my friends from both the work-place and college hit it off.
After a sumptuous and laughter-filled dinner Poly had to leave already but Ed, Mich and I stayed for the last full show of
One Day
starring Anne Hathaway and Jim Sturgess. This post is mainly written to share my thoughts about the movie and how it affected me. I didn't write it straightaway to let the feelings "simmer" (and also because I still haven't had my netbook fixed haha.)
SPOILER ALERT! Do not read beyond this point if you haven't seen the movie yet and you don't want spoilers, thank you.
Please note that I am basing my thoughts on the movie alone as I haven't read the book yet. I've been wanting to though ever since I read
Meream's post
but apparently it's hard to find a copy of David Nicholls' best seller nowadays, owing to the book's and film's popularity.
The book (and film) is named such because the story describes what happens to the two lead characters every July 15 in a span of twenty years. A quick and spoiler-ridden summary of the plot: Emma has known Dexter for quite a while (they're classmates) but he only noticed her on graduation night. They went home to her apartment but nothing happened, they just cuddled and talked all night. They became best friends after that, getting in touch through the years even when they were far apart. Emma is in love with Dex but it appears her feelings were not reciprocated. There was a pivotal moment the night they skinny-dipped, but the moment was ruined when Dex admitted he loves her, but he couldn't be with her. Commitment issues, y'all. From being a waitress, Em started to work towards her dreams of being a writer, all the while staying in a relationship with a guy she doesn't really love - Ian. Dex's career, meanwhile, started to dwindle. From being the star of his own TV show, he got sacked from hosting a game-review program at a cable channel. He impregnated his girlfriend, got married, and got divorced when his wife cheated on him with his college best friend. He visited Em in France, where she is already a published author and in a loving relationship with a jazz musician. He was flabbergasted but there really wasn't anything he could do so he just decided to leave, but Em realized she couldn't really "quit" him, so yay they finally got together! They decided to have a baby but got frustrated after two years of not succeeding, and got into a small fight one morning. After doing some laps at the pool Em's heart softened and left a message on Dex's phone saying she'll see him later, but Fate had other plans because while riding her bike on the way home, BAM she got hit by a bus and died.
I literally screamed in shock and surprise when the bus hit her.
I think I was the only one who didn't read the book as I was the only one who reacted that way. Or maybe I was the only one who was watching the movie with such concentration.
I mean, it was already foreshadowed three minutes into the movie that something like that will happen, but I wasn't expecting it to be that brutal.
Or, I guess I just wanted Emma to be happy after seeing her heart being trampled on all those years.
So basically the message that the movie left me is that, "Life sucks, but you will be happy for two years. And then you die." Tsk.
But of course, I would want to applaud the author and the director as the screenplay, cinematography, and score really are excellent (though the flashing of dates on the screen reminded me of 500 Days of Summer). The lines are witty, the shots are great, and the costumes and makeup really made me believe I traveled the whole twenty years with them within those less than two hours in the movie house. The acting was tops and I really felt like I'm watching a true, non-fictional story unfold. Jim Sturgess was brilliant as the fresh-faced, happy-go-lucky Dexter and even more so when he was already beaten down by drink, drugs and depression. On the other hand, you guys know how much I love Anne Hathaway (one only has to Search this blog to prove it), but I am sorry to say she messed up Em's character because of her accent that didn't really know which way to go. It was fine during the first few scenes, but it changed drastically all throughout the movie that I couldn't help but wish the film didn't require her to have a Yorkshire accent instead. Apart from that though I still love her and all the transformations done to her in the movie.
David Nicholls deserves props for being brave enough to write a tragic story like One Day when cheap rom-coms are a dime-a-dozen these days. I was deeply affected by Dex and Em's story (in fact writing about this now makes me emotional) and all the different themes and concepts it explored like unrequited love, friendship, coming of age, and death.
Loving someone without those feelings reciprocated is probably one of the most painful things to ever happen to someone. It happened to me once and I thought I was perfectly fine with it, until one day my heart just decided that enough is enough; loving someone is great, yes, but it's even better when that love is returned.
There was also one line there that struck me the night Em and Dex parted ways after having a big fight. Emma told Dex he's already outgrown her and their friendship, and that she loves her but she doesn't really like him any more. It has happened to me with some friends in the past, and it just goes to show Life is constantly changing. I myself have changed, and when those changes clash with the new changes my friends experience, then conflicts arise and you stop being friends. Sad really, but sometimes that's how things really are.
It's funny how fictional characters can affect me this way, huh?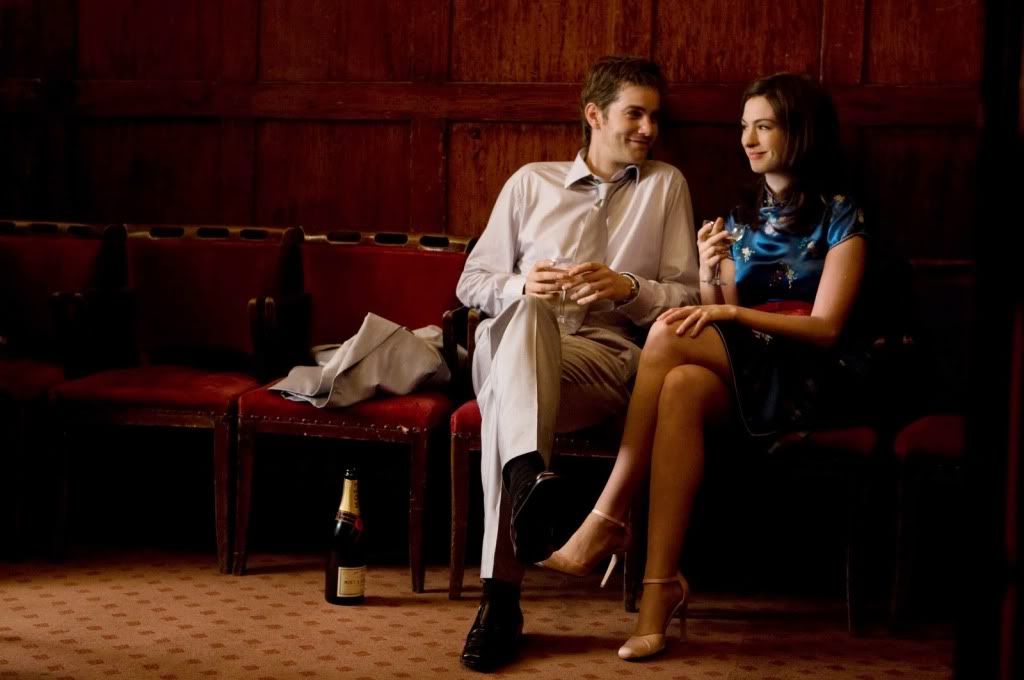 One day I'm going to have my own love story, and dear God please God don't let it be as tragic as Dex and Em's.
Sorry for blabbing uncontrollably. Thank you if you finished reading everything. Have a great week ahead!