I really wasn't expecting it, but because of the overwhelming response to my
race kit-giveaway
for the
Earth Run 2011
held last Sunday at Bonifacio Global City, Miss Milette Roque of Solar Entertainment also gave me my own race kit :) I didn't have any plans of going, but how can you say No to that? So, just like Barney Stinson - if you don't know him, WHY? You should go watch
How I Met Your Mother
. Now! - there could only be one answer: CHALLENGE ACCEPTED!
Never mind that I have been getting three hours of sleep at most for about three days before the race. Never mind that I don't have proper training for it (I go to the gym, yes. But I rarely do cardio because the weight-gain program I follow doesn't recommend it). Never mind that I don't have running shoes and the closest thing I have to trainers is my
Hush Puppies "Gryffindor" shoes
(referred to as such because of its red/ gold color combo). Never mind. It would be my first time to join a Fun Run and I am going to work it!
The race kit included a strider chip that let us know our "official time".
Oh hello, I am runner number 4290 :)
Friends put the FUN in Fun Runs!
Frank, Mae, and Jonas were also there :)
We reached BGC before the assembly time of 5AM, and it was so amazing how so many people all wearing the Earth Run dri-fit shirts have already gathered! It's a great feeling when you stop and think about how they all collectively contributed for this very worthy cause. I say, if we only exert as much effort in making sure our environment is protected, then all hope is not lost after all ;)
Anyway, back to the Run. I chose the 5K category so that my friends and I will all be in the same level and I won't run alone. I ended up being alone though as I lost them five minutes into it LOL. They were already waiting for me in the sidelines when I approached the Finish line, and cheered me the remaining way through!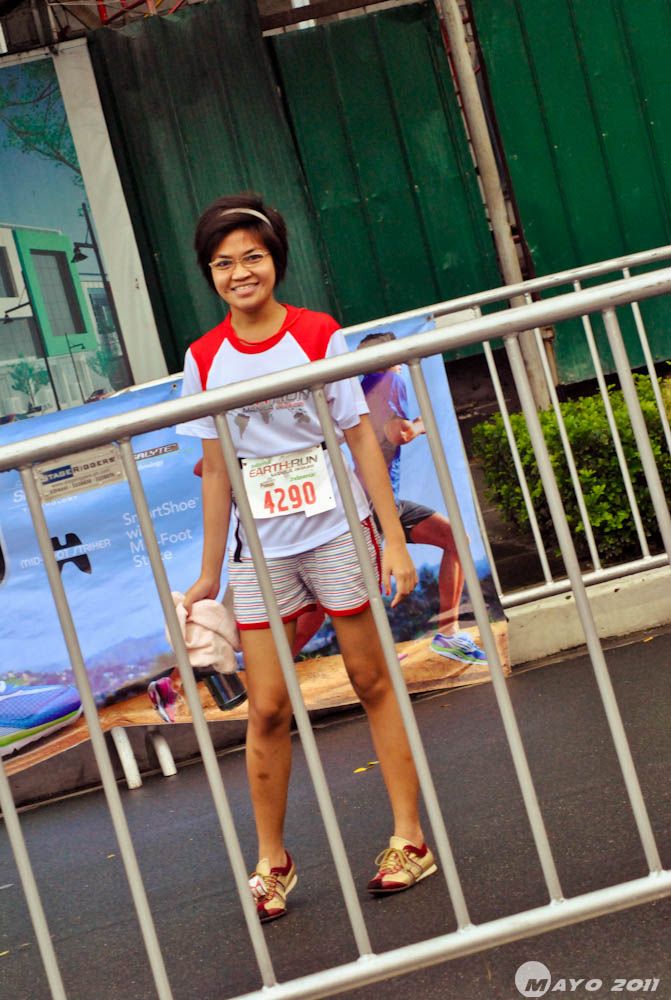 Of course I HAD to stop and pose for a photo ;)
Photo from Mae.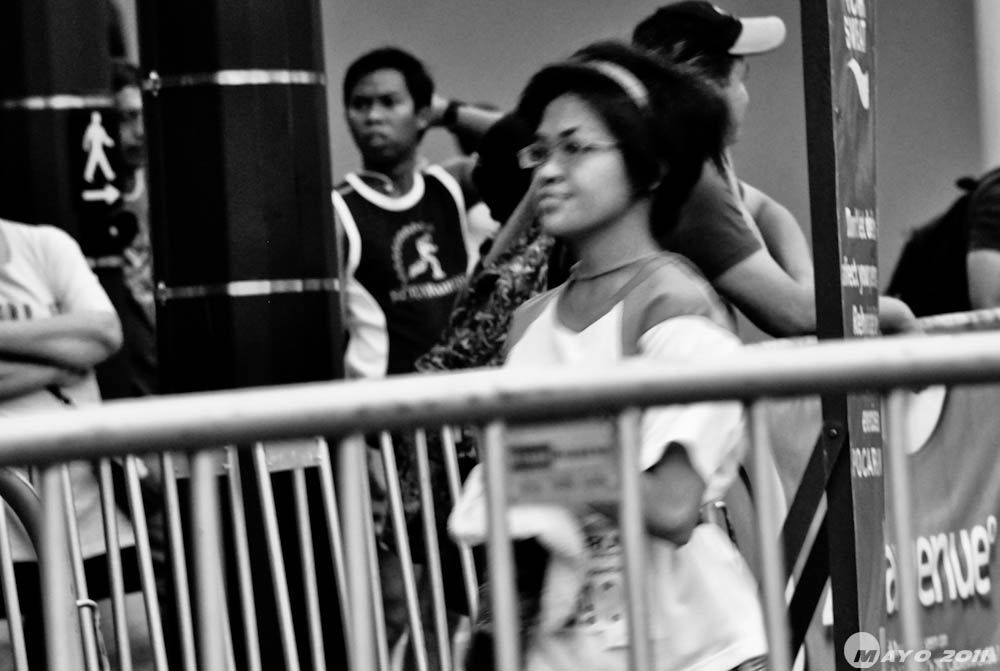 Look at that. That is the face of determination. LOL.
Photo from Mae.
It's a wake-up call on how out of shape I am, and now I know I should really take my health seriously! Nevertheless I am still proud I finished running the whole stretch in less than an hour! Yay! :D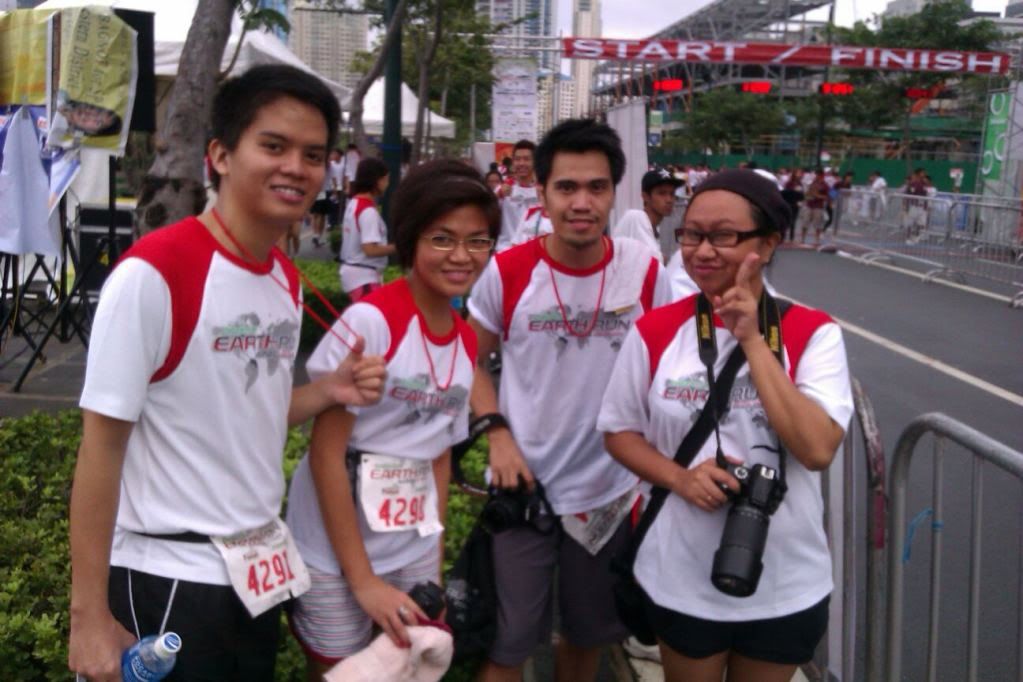 Breathless, but on a high!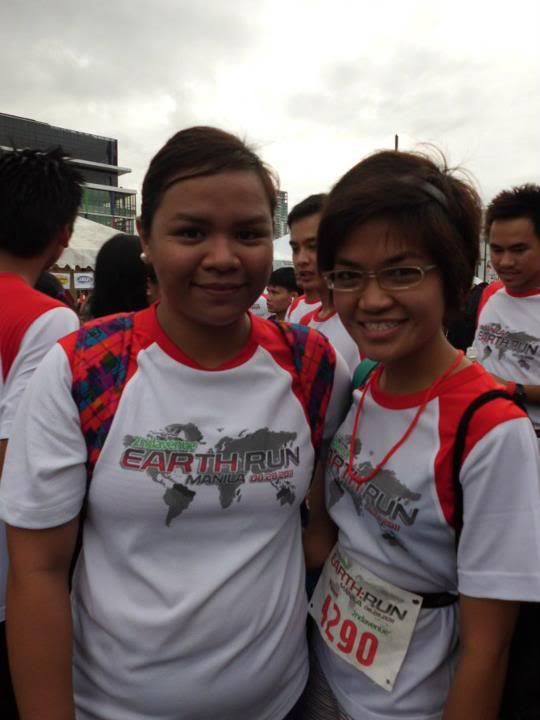 I also saw my Sigaw sister Cherryl there! ♥
All race finishers were given a certificate and a gift bag of goodies from the sponsors. BIG thanks to 2nd Avenue for staging the Earth Run 2011! There'll be another Fun Run this coming September, and I am hoping I would get to participate again :)
We were absolutely famished after the Run, so we went straight to Market, Market where we feasted on food. Aside from a
tapsilog
, I also finished a one piece chicken meal (with rice, mind you) AND
saging at sago
for dessert. Plus one cup of coffee. Told ya, I'm skinny but I eat a LOT. I got to my parents' house at 12NN where I ate lunch, then slept like a baby for five hours. Heehee.
My leg muscles hurt the rest of Sunday and Monday. I even
tweeted
about having a Barney Stinson-after-the-New York Marathon moment. If there's anything I learned that I want to share with you guys, it's this: ALWAYS WARM-UP BEFORE YOU RUN. I learned that the hard way haha. I feel a bit better now, though still a little sore, and I walk really funny. But! I am unstoppable. After work my officemates and I will go to Laguna for an overnight swimming/ teambuilding at a private resort with hot springs. Yayyy! So I have to sign off now as we're leaving in a few. I hope you're all having a great week as well, wherever you are ;)